Mommy Reality Challenge #33: Bedside Table Treasure Hunt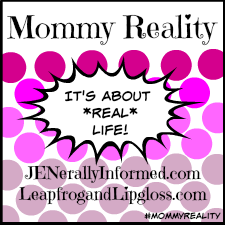 The challenge this time is to share what your bedside table looks like. I swear, I usually try to keep mine organized because it's the one space in the house that I really have full control over and I like things neat, but since these challenges are about nitty-gritty parts of mommy-hood, I took the pictures as-is.
I see unfinished sewing projects, a cross-stitch diagram for a project I haven't started, some work papers, a letter from our family Compassion sponsor child, and a stack of books (including the requisite parenting book!)
Things are pretty neat inside the first drawer: a finished latch-hook rug (I like crafting, okay?!), my spare glasses case, and a stack of stationary from Jones Design Company's
PaperWorks
. See, organized.
The second drawer is a goldmine of randomness: Old address books, old Christmas cards, my licensing paperwork, the cat's vet paperwork, Ipod cords, jewelry boxes, and conversation cubes left over from when I was teaching English on Ebeye.
It's your turn- what's on your bedside table? Is it organized or does it fill up stuff that doesn't go any place else?